The Milk Collector Bundle
$26.99
Regular price
$30.99
Let no milk go to waste. The Milk Collector Bundle brings together the Lactation Massage Roller to help you fully empty your breasts and the Milk Collector - Silicone Breast Pump to make sure you collect every precious drop of liquid gold.  
MILK COLLECTOR - SILICONE BREAST PUMP
90ml/3oz capacity

Dishwasher safe

FDA-approved food-grade silicone

BPA, PVC, and phthalate-free

Includes protective cover / lid
LACTATION MASSAGE ROLLER
Multiple ways to use it

Scooped handle for moving milk 

Water-resistant for use in the shower

Medical grade silicone

BPA free
There's no two ways about it - breastfeeding mamas work hard for that breastmilk. You don't want to see any of it go to waste, that's why the Milk Collector bundle is perfect for you. 
The Lactation Massage Roller gives you the benefits of breast massage without exhausting your hands. Benefits include:
Empty the breast more effectively

Improve milk flow and letdown

Reduce recurring clogged ducts

Stimulate the breast
The Milk Collector - Silicone Breast Pump, on the other hand, catches every drop of your letdown. 
Customer Reviews
Write a Review
Ask a Question
Filter Reviews:
milk
ducts
breasts
pump
items
silicone pump
milk collector bundle
nothing
half
most
02/20/2021
Keara M.

United States
Buy it!!
The milk collector bundle is simply amazing. I use at least one of these wonderful items every time I nurse or pump. My LO only wants breastmilk and these products have made it so much easier for me and less painful for my breasts. My only regret is not buying them sooner. Also, I put the wrong shipping address because I was so eager to get my items and someone reached out to me immediately to ensure it was correct. So not only are the products out of this world, the customer service is excellent as well.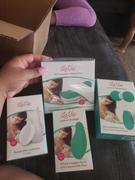 10/03/2021
KIT Y.

United States
Love it.
Easy to use! I can't imagine how the roller could collect more milk but it did!
08/26/2021
Raquel P.

United States
Great combo!
Nothing has helped my clogged ducts as fast and easily as this combo!
06/30/2021
Johanna K.

United States
Good
I love how it it rolls and I do think it has helped me not have bumps anymore .
02/03/2021
Kelsey G.

United States
Worth a try
I have only had the milk collection bundle for a week and a half or so. I have been dealing with stubborn clogs and these items have helped some. I use the rolling massager stick prior to most of my pumping sessions for a couple minutes. It is hit and miss on when it seems to help. I'm also not consistent on when and how long I use it. I have used the silicone pump a few times and I am able to get some milk out after pumping. I only use it for 10 minutes or so at a time, not any longer. Definitely worth a try for the price and it's helpful to have something to use other than my hands.
01/22/2021
Chelsey M.

United States
Love it!
This massages helps with hand expressing & clogged ducts!
09/14/2020
Bethy C.

United States
Super helpful
So far so good. Really enjoying the massager for let down and the silicone pump for catching the extra. Definitely worth it.
06/05/2020
Shanna S.

United States
Feedback
Overall great products. When using the hands free bra it is hard to line up the flanges. The warmer and messager are great they help with increasing milk flow and getting things started. I also used both to work out a clogged duck that was very painful.
06/04/2020
margaret s.

United States
Milk collector
I can't say coz I bought it as a gift to the address I send
05/31/2020
Michelle S.

United States
So helpful and helps save a lot of my milk!
Loved this milk collector bundle! Highly recommended for any Moms alike who wants to save every drop of their milk and a quick massage for their breasts prior to their pump/bf.