Milk Collector - Silicone Breast Pump
Easily collect every drop! The silicone breast pump makes it easy to collect breast milk while nursing, or on the go. Just suction it to your breast and watch the liquid gold flow. No cords, batteries or assembly required, making it the perfect addition to your breastfeeding toolkit.

Collects 90ml/3oz

No cords, batteries, or assembly required

Dishwasher safe

FDA-approved food-grade silicone

BPA, PVC, and phthalate free

Includes protective cover / lid
The Milk Collector is extremely versatile. Here are the top ways LaVie moms put their silicone breast pump to work:
Attach to one side while baby is nursing/while mama is pumping to collect letdown

Gentle relief of engorgement pressure that doesn't excessively stimulate more milk to be produced (for weaning)

Relieve clogged ducts by filling with epsom salt and warm water and using on the affected breast 

Perfect for traveling - easy to toss into handbag, diaper bag, suitcase, or in your spare drawer at work for last-minute pumping needs
Always sterilize a new silicone pump by boiling or steaming

Flip over the wide flange to expose the narrow opening of the pump. Place the opening over your nipple. Make sure it is centered comfortably.

Squeeze the bottle to create suction, and flip the flange back onto your breast. You may need to adjust the position and suction of your pump.

Once milk begins to flow, simply leave the pump attached and the milk will begin collecting. 

When your milk flow stops, remove the pump and pour the milk into a storage container.
🎁 *To claim your free milk bags:
1. Add the Silicone Pump to Cart along with other items
2. Checkout value must be at least $75
3. Use code FREEPUMP to checkout
Discounts cannot be combined.
Customer Reviews
Write a Review
Ask a Question
Filter Reviews:
milk
pump
baby
breast
milk collector
side
nursing
silicone
Works
suction
08/04/2020
Susan K.

United States
07/28/2020
Jessica J.

United States
05/16/2020
Kanchan S.

United States
Perfect hands free pump
I have a newborn and a preschooler at home. Between the feedings and scheduled pumping sessions. I occasionally still get full and start to leak some milk. This pump comes handy when I have to cook or clean or do any domestic chores. I am able to collect the milk that I would have otherwise lost. This pump has good suction and it stays put until its full. Please be careful to remove it when its full - I once lost a full pump while working in kitchen as it became too heavy to stay put. My only negative feedback is related to the cover. The lid does not provide a seal, if you accidentally topple the pump with the lid on, milk will fall. Therefore I immediately transfer the milk out of it and avoid storing it in the pump.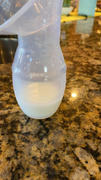 01/16/2020
Robert H.

United States
01/12/2020
Jennifer G.

United States
07/26/2019
Olivia M.

United States
05/31/2021
Ashley F.

United States
Dual Benefits!
The item has been ideal for helping collect additional milk while nursing on opposite side! This has also been a great hack for getting out clogged ducts (with use of epsom salt!). Amazing product that has brought comfort and extra milk.
02/28/2021
Hannah R.

United States
Milk collector- silicone Breast pump
The milk collector works great! I was able to start a small freezer stash for emergencies. I would tell any breastfeeding mothers to have one!
02/22/2021
Jennifer M.

United States
Tipping potential
I've used it a handful of times, it works well. Only doing 4 stars instead of 5 because it would be awesome if the base was wider. I'm always so nervous taking it off and setting it down.
02/20/2021
Lisa V.

United States
Massager
Heat really helped for me. So easy and convenient.